Aimco Announces New Gen IV ACE Controller Platform
Posted on October 2, 2018 at 8:47 pm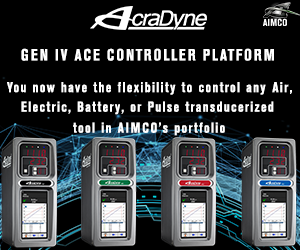 Aimco is pleased to announce the new Gen IV ACE Controller platform. The new controllers can run any Electric, Air, Battery, or Pulse transducerized tool in AIMCO's portfolio.
The AcraDyne Gen IV ACE Controller is the culmination of more than 40 years of Aimco serving industrial fastening customers with 17 years of designing and manufacturing DC tools that are Made in the USA. The Gen IV ACE Controller is a controller platform that will command every tool in the AIMCO arsenal. You now have the flexibility and freedom to control AcraDyne's DC and Battery powered tools, Uryu's DC, Air and Battery powered tools. The Gen IV ACE Controller platform is filled with countless advanced capabilities and features such as:
Bright LED Display – View torque, angle, bolt count, parameter set, job/sequence easily from a distance.
Optional 7″ Touch-screen Graphical Display with real time graphing for application review with on-board software that is the same on all devices.
Web browser based programming – Receive data on your PC, Tablet, Smartphone, or any other web capable device. You can use more than on device at a time – be in program mode on one device while reviewing real-time curves on another while watching tool diagnostics on a third.
4 USB Ports – Backup and restore, update software and download data and curves
Rundown storage – 20,000 including the curves.
Event log – 5000
Programmable calibration and service charts.